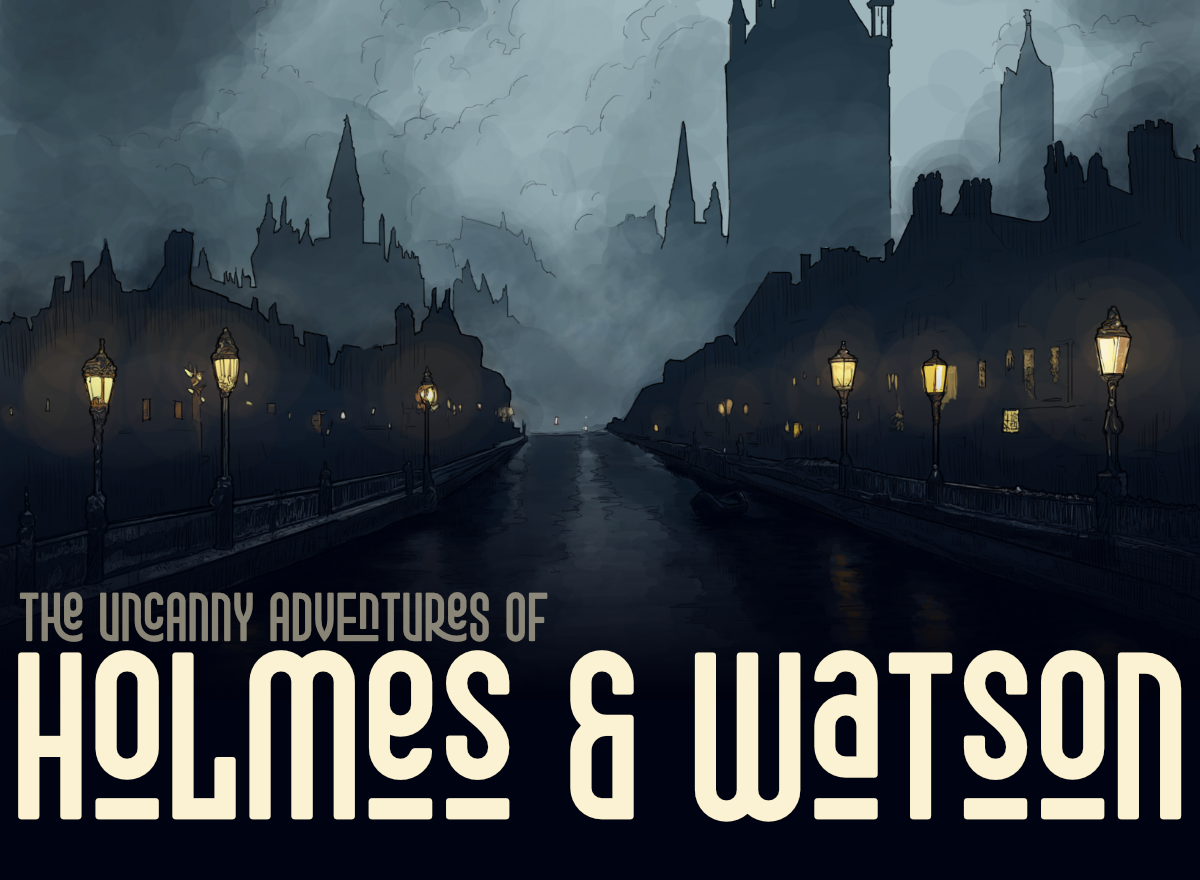 The Uncanny Adventures of Holmes & Watson
"How often have I said to you that when you have eliminated the impossible, whatever remains, however improbable, must be the truth?"
A Scandal in Bohemia. The Red-Headed League. The Adventure of the Speckled Band. The Hound of the Baskervilles. The Adventure of the Six Napoleons. The Final Problem.
The Uncanny Adventures of Holmes & Watson is a role-playing game about a crime-fighting, mystery-solving team. Players can roleplay their own take on the famous partnership, taking the roles of Holmes and Watson and putting their own spin on the story, or they can create original investigators and navigate either the Holmes casebook or cases of their own design.
Holmes & Watson is designed to extend Good Society by Storybrewers; the base game is required to play. It's also recommended that you read the Duet Society guide by Storybrewers if you wish to play Holmes & Watson as a duet game.
Explore a Partnership. While the characters are tasked with solving mysteries, the partnership itself is the focus of Holmes & Watson. Is it a smoothly efficient operation, or does it buzz with chaotic energy? Are the partners the best of friends or do they just barely put up with one another? The cases they undertake together will test their relationship; it may draw them closer together or push them apart.
Solve Mysteries. Players collaborate to design and detail cases as they solve them. There are no set solutions for any of the cases in Holmes & Watson - solutions are created by the players when hitting story beats and creating the right details to shed light on mysteries. Allies, enemies, and rivals weave in and out of the stories, muddying the water. Six classic cases from the Sherlock canon are detailed in Holmes & Watson, with rules to design cases either during an out-of-game time, or completely improvised while playing it.
Discover and Defeat Your Arch-Enemy. As your characters solve cases, they will unravel the biggest mystery of all - the identity of their nemesis, a true master of crime. Is it someone previously unseen, pulling strings from behind a dark curtain, or is it an old enemy, long thought defeated but instead biding their time for their revenge? Or is their nemesis someone that has been hiding in plain view all along?
Play as a duet or with a full table. Holmes & Watson is primarily designed as a duet game. Two players explore the relationship of their main characters and collaborate to solve mysteries together. Although designed for two, Holmes & Watson expands easily to accommodate more players. A playset is included for four players, and this can be further expanded by including the optional Irene Adler character role.
Included in The Uncanny Adventures of Holmes & Watson:
Illustrated 73-page PDF in both high-quality and standard versions
67 new cards of new connections, complications, and deductions
6-page map pull-out
5 Sherlock-flavored roles
---
Collaborators
Gene Astadan wrote and designed Holmes & Watson. He also drew the maps and additional art. He's released a bunch of Good Society-related material, notably Gothic Society.
Eric Astadan provided art and illustration for Holmes & Watson. Eric is a veteran animation professional, contributing storyboards, backgrounds, and props for major studio productions. You've seen his work in Pinky and the Brain, Jackie Chan Adventures, and The Boondocks, to name a few.
Rob Hebert contributed art and character designs for Holmes & Watson. Rob is an Ennie-nominated artist and designs and publishes his own clever titles at nerdypapergames.com.
Misha Grifka Wander is the editor of Holmes & Watson. Misha is an educator, writer, editor, designer, and maker of mushroom wellington. His most recent title, Butterfly Court, can be found at mishagw.itch.io.
Purchase
In order to download this game you must purchase it at or above the minimum price of $5 USD. You will get access to the following files:
Holmes_and_Watson_v100_cards_high_quality.pdf
15 MB
Holmes_and_Watson_v100_cards_small_size.pdf
722 kB
Holmes_and_Watson_v100_maps_high_quality.pdf
788 kB
Holmes_and_Watson_v100_maps_small_size.pdf
487 kB
Holmes_and_Watson_v100_play_aids_high_quality.pdf
16 MB
Holmes_and_Watson_v100_play_aids_small_size.pdf
310 kB
Holmes_and_Watson_v120_high_quality_pages.pdf
57 MB
Holmes_and_Watson_v120_high_quality_spreads.pdf
57 MB
Holmes_and_Watson_v120_small_size_pages.pdf
2 MB
Holmes_and_Watson_v120_small_size_spreads.pdf
2 MB
Holmes_and_Watson_v100.zip
153 MB